Complete Live Video Chat Solution for online Retail Businesses and brands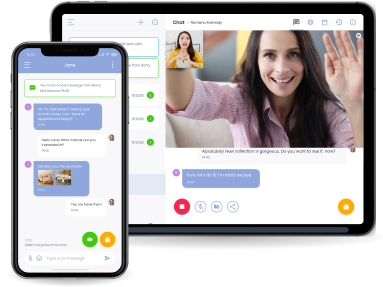 Frequently Asked Questions
?
Is there a limit for how many sales support staff we can have using the apps?
There is no limit to how many staff you can have using our software and how many devices you use; our plans our based on your monthly usage
?
What internet connection speed do we need for a good quailty video/audio call?
We recommend you and your customers to have a minimum 15 mbs download speed (or greater)
?
What type of training and support is available for our managers and staff?
We have diiferent levels of support available to suit for each plan by email, chat, phone
A chat is an online converstion tool in the widget that creates connection between the customer and a sales support person
?
If we are using the webliveview software can we cancel the subcription plan?
Yes - a monthly subcription plan can be canceled anytime; you will be paid up untill the next monthly renewal date only
?
What happens if we need a diiferent plan if we reach our monthly limit?
You will get an email notification when your at 90% of your monthly limit is used; you can then contact us about a new plan
Take a 30 days free trial and test our software in your own time
Webliveview is 100% GDPR compliant.